US Women's National Team star Heather O'Reilly visited the Academy in 2013 and 2014 to train campers for a day. Her dynamic personality and love for the game inspired athletes and staff.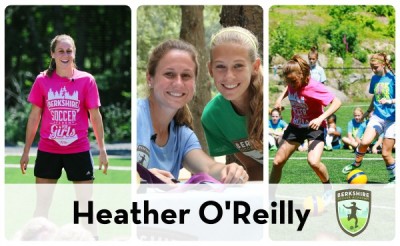 Highlights from Session III with Heather
Every athlete had the opportunity to work with Heather on the field, participate in a Q&A session and receive an autograph and photo.
About Heather
Heather O'Reilly (or HAO as her teammates call her) is a midfielder for the U.S. Women's National team. HAO was chosen for the Olympic roster in 2004 after having played for the U-19 national team. In her eleven years career, she has helped the team win three Olympic gold medals (2004, 2008, 2012) and a Women's World Cup in 2015.HAO was recognized as the top recruit in the country when she began her collegiate career at UNC Chapel Hill in 2003. She ended her career in 2006 with 97 appearances, 59 goals and 49 assists as well as being chosen by ESPN as All-American Player of the Year in 2006. HAO led her team to two national championships in 2003 and 2006. Upon graduating, UNC retired her no. 20 jersey honoring her into a distinguished group of alumni including Tisha Venturini, Kristine Lilly and Mia Hamm. In her professional career, HAO has played in both the WPS and NWSL. She played her first season with Sky Blue FC in the WPS in 2009 in which she scored the WPS championship game winner to help her team clinch the title. In 2013, the inaugural year of the NWSL, HAO was drafter to the Boston Breakers. She played with the Breakers until she was traded to FC Kansas City at the end of the 2014 season. In 2015, HAO led FC Kansas City to its second NWSL Championship title.