Our Collegiate Pre-Season Program was created when a group of college athletes contacted us for a way to prepare for their fall soccer seasons before returning to school.
Join us at the Berkshire Soccer Academy from August 14 to 17, 2017 to sharpen your skills and your fitness before showing up to your college pre-season training. Registration will close on June 30th.

Torree Soelberg
Torree recently completed her 3rd year as a head coach at the Berkshire Soccer Academy. She has coached collegiate soccer at Holy Names University in Oakland, CA and at Bethany College in Lindsborg, Kansas. Torree played collegiate soccer for two years at Bakersfield College as a central defender, where she was a captain and First Team All-Conference player both years. She finished out her career playing for Brigham Young University (BYU) Hawaii where she played center midfielder and helped take her team to the NCAA tournament. She received her B.S. in Exercise and Sports Science. She is currently pursuing her master's degree in Athletic Administration and Coaching. Torree hholds a USSF "D" coaching license.
Train on two beautiful grass fields and one synthetic turf field
WHEN: Monday, August 14 – Friday, August 17, 2017
WHO: Female collegiate soccer players looking to prepare for pre-season
WHERE: Berkshire Soccer Academy in East Otis, Massachusetts
COST: $400 – includes comfortable housing, 4 healthy meals per day, and a training kit
*Athletes can enroll independently or with groups of club or college teammates
Athletes receive individualized training from our world-class coaching staff 
Athletes train and prepare for their upcoming seasons by participating in two on-field training sessions per day under the direction of our expert coaches. The focus is to provide a training environment that boosts confidence, allows for lots of touches on the ball, and encourages speed of play. Each session is also accompanied by fitness and agility training, and all athletes have access to our weight-training facility. Our athletes benefit from healthy food, ample rest, as well as recovery activities including yoga and swimming in our pristine private lake so their bodies are healthy and ready for the demands of the fall season.
Athletes are walked through sport-specific stretches by our on-site yoga instructor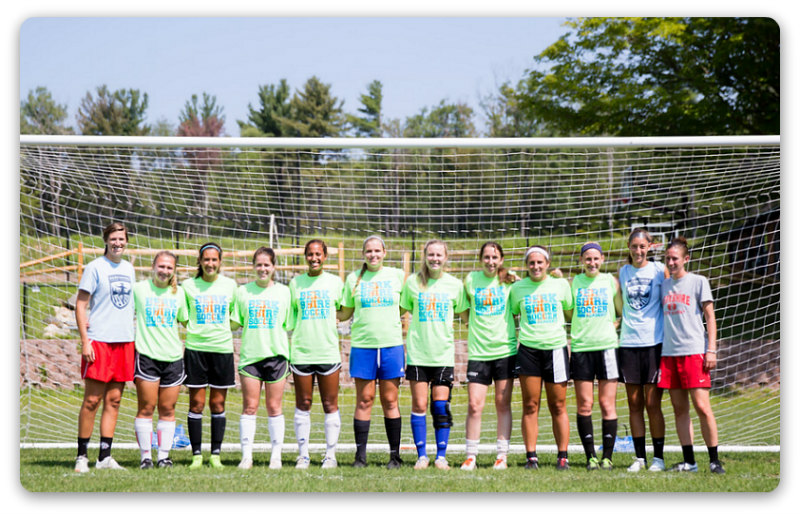 One of the training groups with our coaches in 2015