Planning International Soccer Tours for Girls Teams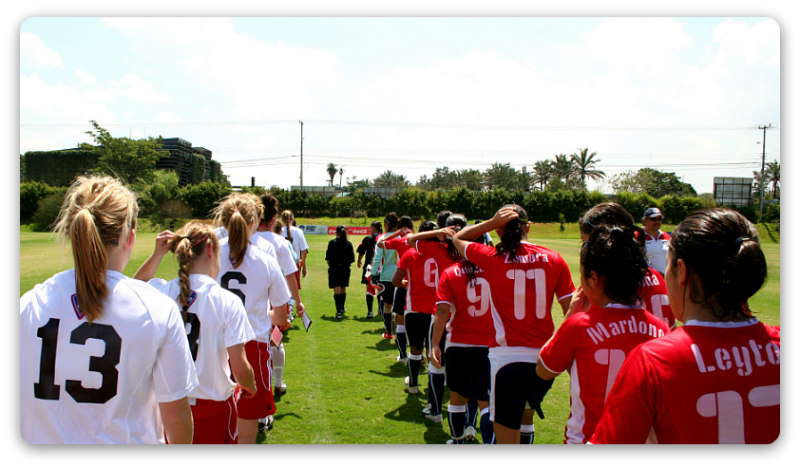 All you need is something that can roll–that's it. It doesn't matter what's beneath your feet or on them for that matter.In an empty street, a red dirt field, a small backyard or a lush, grassy space, if you have something that rolls, you can play soccer. This is why in every corner of the world you can find soccer. It is the beautiful game loved by billions. Since it is played globally, and because of the influence of cultures, methods and philosophies, players adopt stylistic ways of playing that differ from country to country. For example, the English are known for their high tempo and endurance, Italians for disciplined tactics, and Brazilians for craftiness and maneuvering gracefully in tight spaces.
Most youth American players are only exposed to these cultural styles of play watching professional matches. And while this is beneficial to some degree, it pales in comparison to living and breathing another country's soccer culture. Some youth soccer clubs invest in international soccer trip allowing players to not only be exposed to different cultures' styles of play but compete against them gaining full exposure and learning new ways to play. These trips allow teammates to create lifelong memories together and international friendships. Sharing in new experiences and exploring new cultures as a team creates a bond between teammates that can't be replicated. With the ease of travel and hundreds of options, it can be difficult to know where to start. Here are a few examples of the most popular destinations youth club teams are visiting:
8 to 10 day tour includes 3 or 4 soccer matches. Teams are matched up against opponents of equal skill from academy level to national team level.

Train with your coach, watch a professional game or take the opportunity to learn from a professional Costa Rican coach.

Tour Costa Rica with the help of a full-time bi-lingual guide and a private team bus with a full-time driver.

Stay in 3 to 4-star hotels in the city, the beach and the jungle. All hotels include breakfast, lunch and dinner.

Experience the beauty of Costa Rica through various sightseeing opportunities including a waterfall hike and swim, ziplining through the jungle and whitewater rafting. Give back to the community by spending time at a children's community center or promoting literacy by reading books in English to elementary school students
Action Youth's European Soccer Tours – Gothia Cup, Gothenburg, Sweden
9 day tour in Sweden includes entry into the week-long Gothia Cup.

Gothia Cup is the largest international youth tournament in the world. Participate in an Olympic style opening ceremony celebrating the 1,600 competing teams, and the 75 nations they represent. Each team is guaranteed a minimum of four games.

Tour Sweden with the help of a full-time guide and a Gothia Card, which grants all card holders free travel within the city on public buses, trams and trains.

Athletes can stay in schools and receive three meals a day, or opt to stay in 3-star hotels offering continental breakfast.

Experience Sweden using the Gothia Card to gain free or discounted admittance into Gothenburg's main attractions including the Gothenburg Museum of Art, Liseberg Amusement Park, Älvsborg Fortress and the Paddan Boat Tour.
10 day tour includes 3 matches against English club and academy teams.

Tour London, Manchester and Liverpool with the help of a full-time guide and a private team bus with full-time driver.

Accommodations include 4-star hotels with breakfast and dinner service.

Train on professional training grounds with your coach and coaches from BPL Academy teams.

Travel to three separate cities in England visiting famous landmarks such as Big Ben, Buckingham Palace and the London Eye. Attend one or two professional matches, and tour historic EPL stadiums such as Manchester United's Old Trafford or Chelsea's Stamford Bridge.
Travel International Sports – Spain
7 to 9 day tour includes 3 to 4 friendly games and the opportunity to receive professional coaching.

Visit Barcelona and Madrid traveling on a private team bus with a full-time driver and full-time tour guide.

Stay in deluxe hotels offering two meals a day.

Gain behind-the-scenes access into two of the most successful professional teams in the world – Real Madrid and Barcelona. Tour their stadiums, Bernabeu and Camp Nou, and watch a professional match.

Enjoy time in Madrid, Spain's capital, taking in historic landmarks and culture. Then travel to Barcelona to experience street markets, unique cuisine and coastal beaches.
Costa Rica
England
Spain
Sweden
Duration of Trip
8-10 Days
10 Days
7-9 Days
9 Days
Number of Games
3-4 Matches
3 Matches
3-4 Matches
Minimum of 4
Guide
Full-Time Guide
Full-Time Guide
Full-time Guide
Full-Time Guide
Transportation
Bus with Full-Time Driver
Bus with Full-Time Driver
Bus with Full-Time Driver
Free Public Transportation
Meals
All meals included
Breakfast and dinner
Two meals a day
3 meals a day or breakfast
Accommodations
3 – 4 star hotels
4 star hotels
3-4 star hotels
Schools or hotels
Cultural Experiences
Sightseeing,
community service project, professional coaching
Sightseeing, EPL stadium tours/games, professional coaching
Sightseeing, professional team stadium tours/games, professional coaching
Sightseeing, Olympic style opening ceremony, exposure to 75 countries
An international soccer tour is a great way to experience new ways to play, create lifelong memories, and form unique bonds with teammates. Whether your soccer player is en route to a career in college or a competitive youth player, an international soccer tour is an unforgettable part of the journey.
Although international soccer tours offer an incredible opportunity to develop a team, there are some drawbacks to such trips. One obvious barrier is the international travel and overall cost. International travel may not be a feasible option for everyone on a team. Another logistical barrier is corralling the families and organizers of the team to plan the trip in order to meet the needs of many individual families.
For players and families that are not eligible to organize or attend an international tour, there are other options available to have an incredible soccer trip away from home. The best residential soccer camps offer player development focused coaching, as well as meaningful cultural and life experiences to complement training. One example is the Berkshire Soccer Academy for Girls. The Academy brings together female soccer players from across the country and around the globe to elevate their game and build meaningful relationships all while having fun.